What is a Quadribent?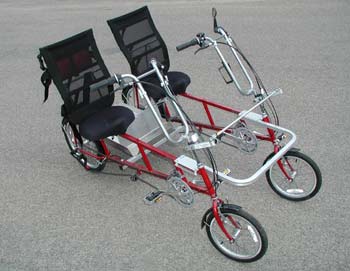 The Quadribent is a two-seat, side-by-side, human powered vehicle that enables almost anyone to enjoy cycling.
The Quadribent attaches two EZ-Classic recumbent bikes to make a four wheel, side-by-side "Sociable Tandem" with independent gearing and pedaling. The recumbents can be detached for solo use.
It is a recumbent vehicle consisting of parallel paired recumbent bicycles that are joined together side-by-side to form a recumbent quad bicycle that two people can ride together.
Co-Captain steering means that either rider can pilot the vehicle.
The dual-drive allows people with different physical abilities to ride together, with either rider generating from 0 to 100 percent of the power.
Quadribent side-by-side bikes are great for combining an adult rider with a child and/or physically challenged rider.
The Quadribent can be separated into two recumbents bikes for "solo" riding and easy transportation.
Two EZ classic recumbent bikes joined together side-by-side.
Innovative side-by-side design for "sociable" cycling.
Features 21 speeds.
Seats adjust for a 4' child to 6'2" adult.
Four-wheel design makes it stable.
Recumbent position makes it comfortable.
"Heads-up" design is easy on the neck, shoulder and hands..
Custom options available: sunroof canopies, rumble seat, electric motor assist, adaptive equipment, and more!
---